Leo Bertucci
Fleischaker-Green Scholar
A batch of preliminary results from a public policy survey produced by political science professors and students from Western Kentucky University shows a two-year increase in support for several election reforms in Kentucky.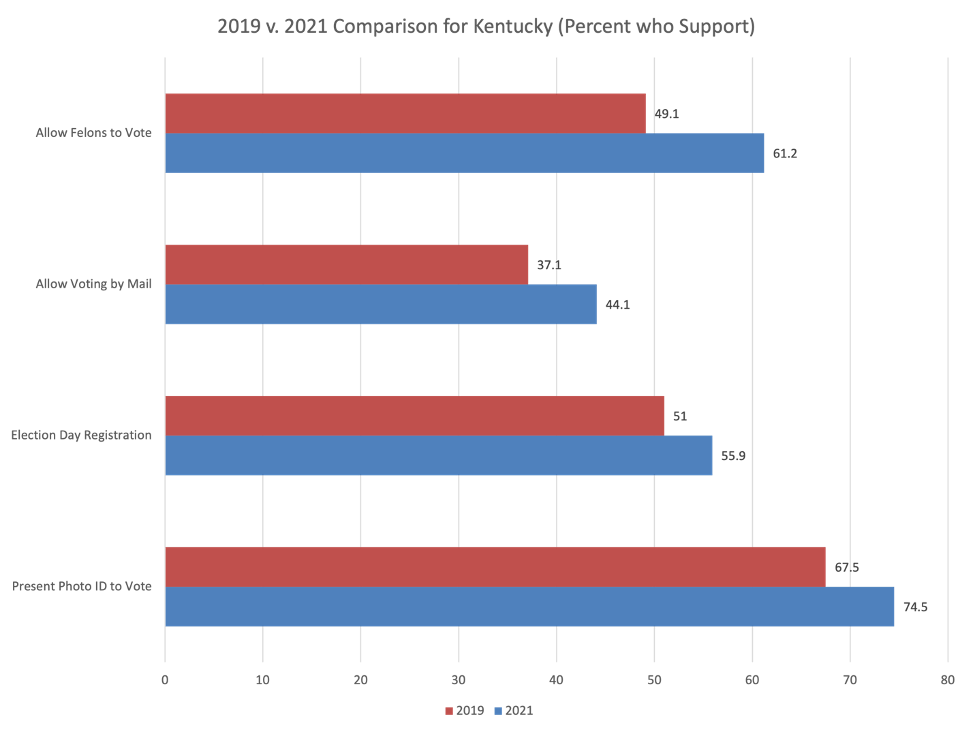 The initial results are part of two surveys polling approximately 725 adults in both Kentucky and Georgia. The surveys were constructed by WKU professors Scott Lasley and Joel Turner, and five students in Lasley's Fleischaker-Greene Scholars in First Amendment Studies course. The surveys, which according to Turner cost approximately $8,000 to distribute, will attempt to gauge public opinion on current election reform proposals. The WKU team has collected 189 responses from the Kentucky survey thus far.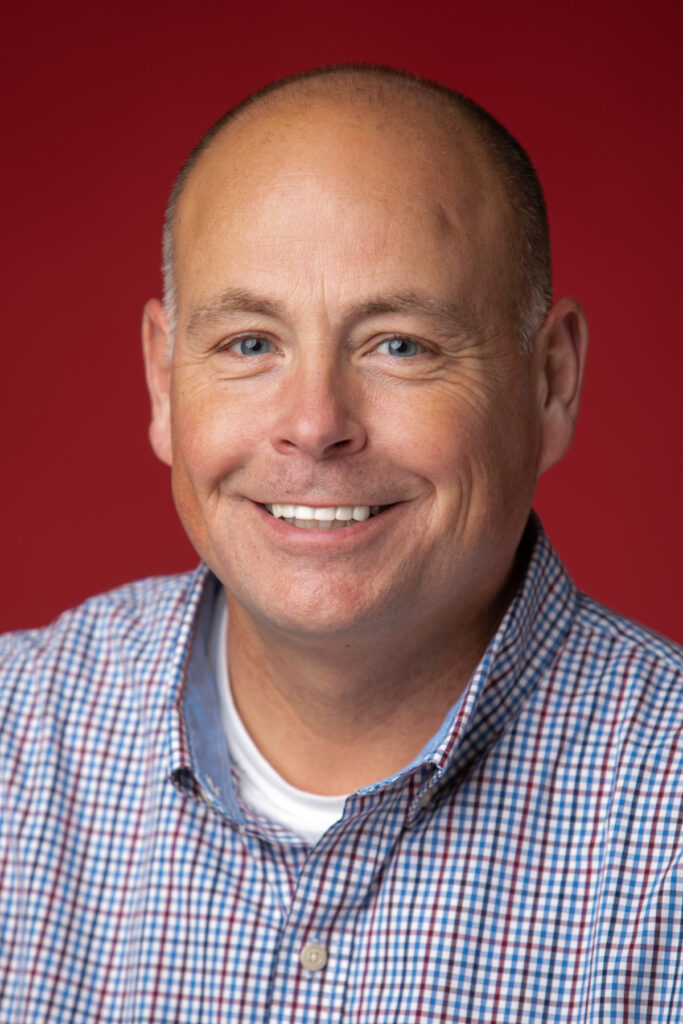 Early response returns from the Kentucky survey reveal broad support for photo ID laws with nearly all Republican participants approving of the requirement.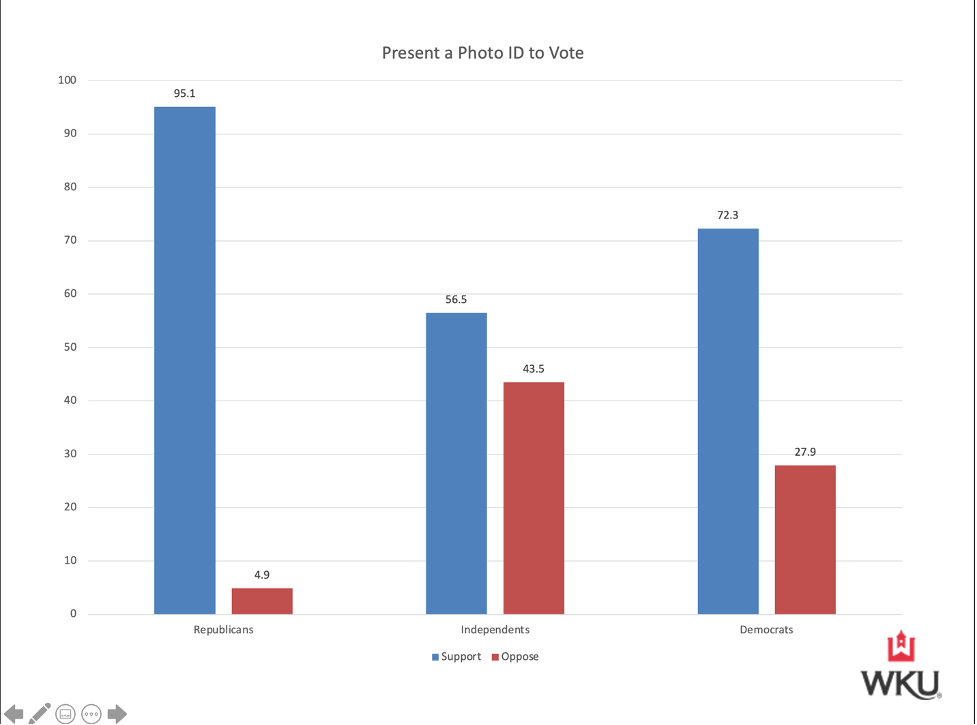 In April, Kentucky Gov. Andy Beshear signed into law a bipartisan voting reform bill that among other things adds four days of no-excuse in-person voting prior to Election Day and lets counties create "vote centers." Vote centers allow residents to vote anywhere in their county, regardless of where they live. Early voting was introduced in Kentucky in 2020 as an emergency measure due to the COVID-19 pandemic.
Because of social distancing requirements and polling place capacity limitations, Kentucky eased restrictions on acquiring a ballot through the mail. The early results from WKU's Kentucky survey point to a partisan divide on voting by mail.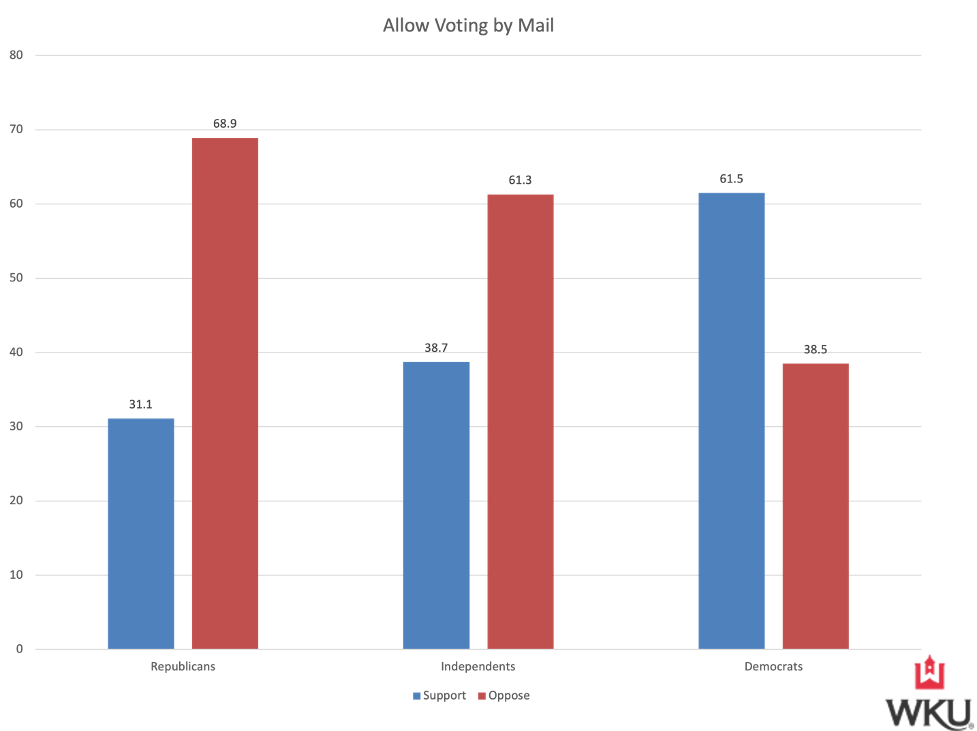 The partisan rift was not as stark when Kentucky residents responded on voting rights for felons. In fact, the split between independent voters was the most prominent on this question.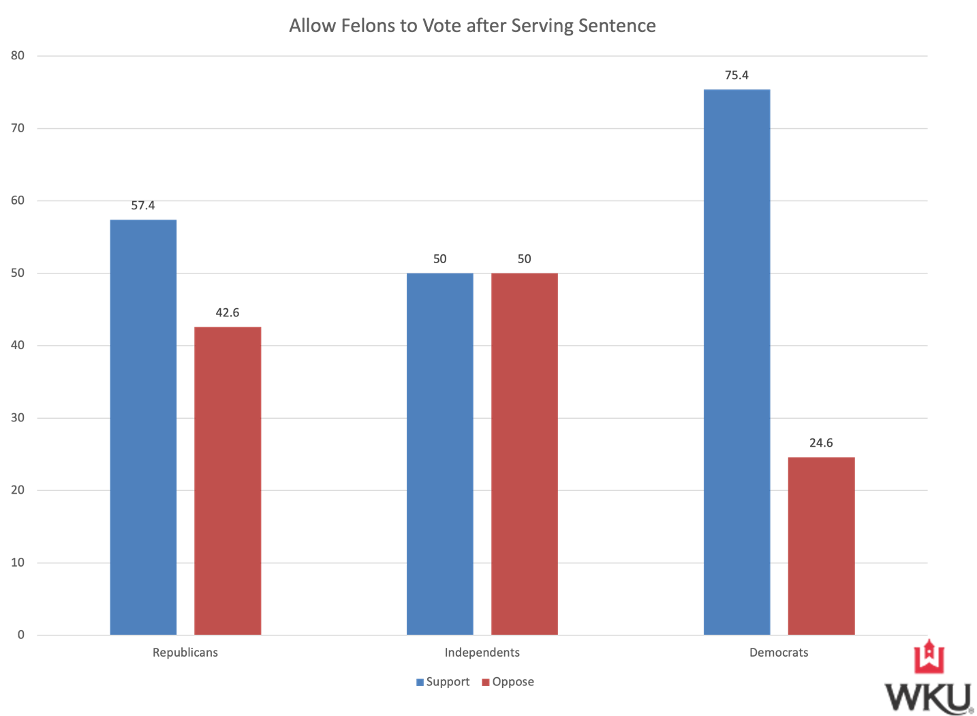 Kentuckians participating in the WKU survey also were asked if they support vote centers. From the preliminary respondent results, 65.6% of Republicans, 64.6% of Democrats and 48.4% of independent voters like the vote center concept. Lasley said the current feelings of Kentucky voters and lawmakers present an opportunity for election reforms to be implemented.
"Kentucky's got a little more room to play (with election reforms) because it is solidly Republican," Lasley said. "(Legislators) can do some of these things and not worry about getting beat."
From their previous research on public opinion data, Lasley and Turner found that Americans in the South tend to view political topics differently than non-Southerners because of their unique cultural values.
Turner said Kentucky's membership in the South is debatable.
"Most people in Kentucky think they're Southern if they don't live in Louisville or in the southern part of Cincinnati," Turner said. "It's interesting to see where (Kentucky falls) on issues and how similar or different they might be (when compared with other Southern states.)"
Georgia, a Southern state, passed what Lasley called "sweeping election reform" in March. The new law tweaks voting access.
For example, it requires residents to provide photo identification when applying for an absentee ballot. Counties will be required to provide up to two Saturdays for early weekend voting in primary and general elections. But in the state's runoff elections, early weekend voting may not be able to take place because of the shortened break — from nine weeks to four — following the general election.
The legislation crafted by state Republicans was pushed through after President Joe Biden's victory in Georgia in last year's presidential election. Lasley said that when paired with Kentucky, Georgia is an interesting state to include in the survey.
"(Georgia) was one of the battlefields where you saw a really highly contested election there in 2020, and it was one of the states that Trump people challenged (in a series of election fraud lawsuits)," Lasley said.
Turner described Georgia as a "purple state" because of its competitive political environment.
"Georgia is a state that's undergoing change," Turner said. "That state just went for Biden. (Democratic politician) Stacey Abrams has some influence there, but it has a heavily Republican Legislature. All of the constitutional offices are held by Republicans."
Lasley pointed to a particular reason for why Democrats have a larger presence in Georgia than in Kentucky.
"One of the key demographic differences between Georgia and Kentucky is the number of Black voters and Black residents," Lasley said.
The 2020 population data sets from the U.S. Census Bureau show that 32.6% of Georgians identify as Black. Kentucky's Black population makes up 8.5% of the state's total, shows the Census Bureau data.
Qualtrics, a Seattle-based software company, will attempt to mirror these percentages in the survey sample it is compiling for the WKU group.
The Georgia version of the WKU survey will ask participants to provide their extent of agreement or disagreement on whether election fraud prevented 2020 Republican candidate President Donald Trump from winning the state. This statement is included in a list of "conspiracy theories," which interest the political science professors.
And it got the attention of Matthew Brown, one of the students contributing to the survey analysis.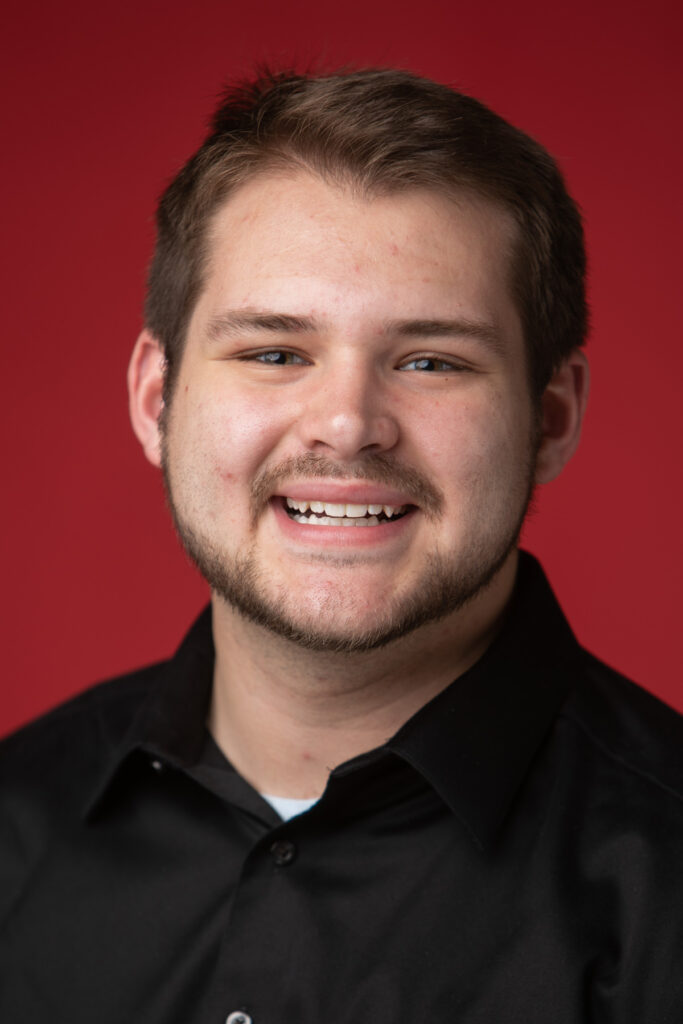 "I think one of those really important demographics is age when it comes to responding to conspiracy theories, because I think older people have more trust in the political system nowadays than I think younger people do," Brown said.
In a survey report expected to be approximately 52 pages long, Brown has been tasked with detailing the historical context explaining why the results of the Kentucky and Georgia surveys appear the way they do. The four other students in Brown's class will analyze and summarize the findings for specific questions and statement groups.
Although the complete results of the survey have not been released yet, Brown has a few hypotheses, based on his previous work with public opinion polls that he thinks will be confirmed when the statistics do arrive.
In one example he referred to Question 52 of the Georgia survey, which states: "Do you believe the following electoral reform proposals would most benefit the Republicans, Democrats, or neither party." Universal mail-in ballots, early voting and automatic voter registration are examples of reform proposals mentioned in the survey.
"It's a very 'us vs. them' mentality," Brown said. "So for example, with the (statement) 'Abolish the Electoral College,' you're going to see (the responses) be split down party lines."
Brown said the results for Question 52 would be very intriguing if they reveal instances of inter-party dissent or clear bipartisan agreement.
"Some of these other (statements) like 'Move election day to a Saturday,' it's hard to see how that would be partisan," Brown said.
Once Qualtrics sends the full results to the WKU team, Turner said he will examine the responses with a non-partisan perspective. "I have a bias toward interesting," Turner said. "I think there's a lot of cool findings we're going to see and maybe even some surprises. Maybe we get something we don't expect."